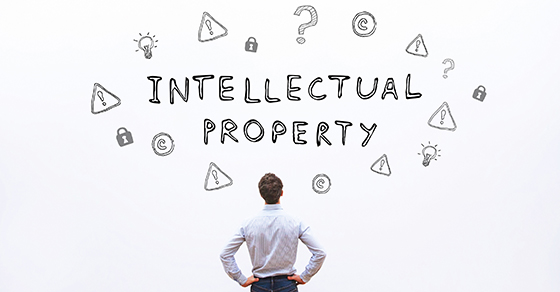 If you own a business, you almost certainly have intellectual property. However, because your intellectual property is intangible, it can be invisible to you and those who aren't familiar with the nature of intellectual property and its value, so it often gets overlooked, especially when it comes to estate planning. Yet, if you fail to properly document your intellectual property, your estate plan will likely not protect it—and this could cause your loved ones to miss out on what can be among your most valuable assets.
When we talk about intellectual property, we're referring to creations of the mind, including inventions, literary and artistic works, designs, logos, brand names, and images, all of which are used in the course of a business.
Identifying, Valuing, and Protecting Your Intellectual Property
While you might think that identifying, protecting, and valuing your intellectual property is something that only applies to big companies, not small businesses, that's definitely not the case. In fact, if you own a small business, your intellectual property can be of even greater value to your loved ones once you're no longer around and able to financially provide for them.
For all of these reasons, it's imperative that you take the proper steps to not only protect these intangible assets during your lifetime, but that you also use estate planning to ensure that your intellectual property is properly handled following your death, so your loved ones can continue to get the most value out of these most valuable assets.
Documentation and Registration
The first step to take in protecting your intellectual property is to formally document it in your business inventory of assets. When you create your business asset inventory, you are creating a record of its assets, including intangible assets like intellectual property.
The next step is to legally register trademarks, copyrights and patents with the U.S. Patent and Trademark Office, and ensure you have the proper legal agreements and contracts in place to ensure there's no question about who owns these works. To this end, if you have not protected your intellectual property with copyrights, trademarks, patents, royalty and licensing agreements, non-competes for employees, and work-for-hire provisions in your existing agreements with independent contractors and vendors, now is the time to do so.
Don't wait until your intellectual property gets stolen or you receive a cease-and-desist letter to put these protections in place. Registering a trademark or copyright might cost you time and money, but failing to register your brand can ultimately cost you far more than that in legal fees or the lost value of your assets, especially if you end up in court, trying to fight for what you thought you owned.
Address Your Intellectual Property in Your Estate Plan
After you have documented your intellectual property, review the operating agreement or bylaws of your business entity. And if you don't have an operating agreement or bylaws, now is the time to put these essential legal agreements in place. Read through your governing documents to see what they say about what happens to your business and its intellectual property upon your death or incapacity.
If you think this all sounds overly complicated, imagine how much more difficult it will be for your loved ones to deal with it should something happen to you. In fact, it could prove impossible for your loved ones to handle these matters in your absence, which is why it's so important for you and your legal team to take care of these issues now. That way, your family isn't stuck trying to clean up a mess after your death.
https://www.calilaw.com/wp-content/uploads/2021/02/download.jpg
162
311
CaliLaw
https://www.calilaw.com/wp-content/uploads/2023/04/Cali-Law-Logo-A5-1-300x99.jpg
CaliLaw
2021-02-09 23:05:24
2021-02-09 23:10:51
Does Your Estate Plan Protect Your Intellectual Property?